Is Sex on False Promise of Marriage, Rape?
June 6, 2023
In court, the issue of whether engaging in sexual activity with a woman constitutes rape under Section 375 of the Indian Penal Code, 1860 is frequently raised. Rape was considered a crime in India, and offenders were subject to punishment. The idea that marriage is a sacred union between two people is widely held. Bonding between couples entails more than simply sex or a physical connection; it also involves the health of their spirits and emotions. Marriage is performed to fulfil "dharma (duty), artha (possessions), and kama (physical desires), according to traditional Hindu law."
Hinduism views sexual behaviour or consummation as a ritual that is carried out following the wedding ceremony. Consent is essential to this physical relationship, and when engaging in sexual activity, both people must have given their consent. However, it would be rape and would be punished under the relevant part of the Indian Penal Code if consent was obtained for sexual intercourse under the premise of a false marriage promise. Some "men's rights activists" claim that the charges made against the defendant should be categorised as "fake rape cases" since they are made with the intent to prove the defendant's guilt. However, a lot of activists believe that these offences should be dealt with legally because they lower women's standing in a patriarchal culture.
This false promise of marriage was made to get consent for sexual behaviour, according to "Section 90 of the Indian Penal Code, 1860." As a result, it is not recognised as giving legal consent, and violating "Section 375 of the IPC" would result in punishment. The second interpretation of "Section 375 of the IPC" is that rape is unlawful if victims are sexually touched without their consent. Indian Courts, however, have started to read "Section 375" differently and have expanded the notion of "consent." The court's view of "consent" violates several fundamental statutory interpretation rules in several circumstances. In some cases, courts have ruled that a man may not always be held accountable under "Section 375" even though he made a promise to marry a woman. Under "Section 375 of the IPC," strict obedience to the law is necessary for determining an accused person guilty.
Nevertheless, it is very clear from the law that making a false marriage promise is rape and is covered under Section 375. The "provisions of Section 375 of the IPC" must be interpreted extensively to determine someone guilty of rape.
Answering whether Sex on False Promise of Marriage is Rape – Case Laws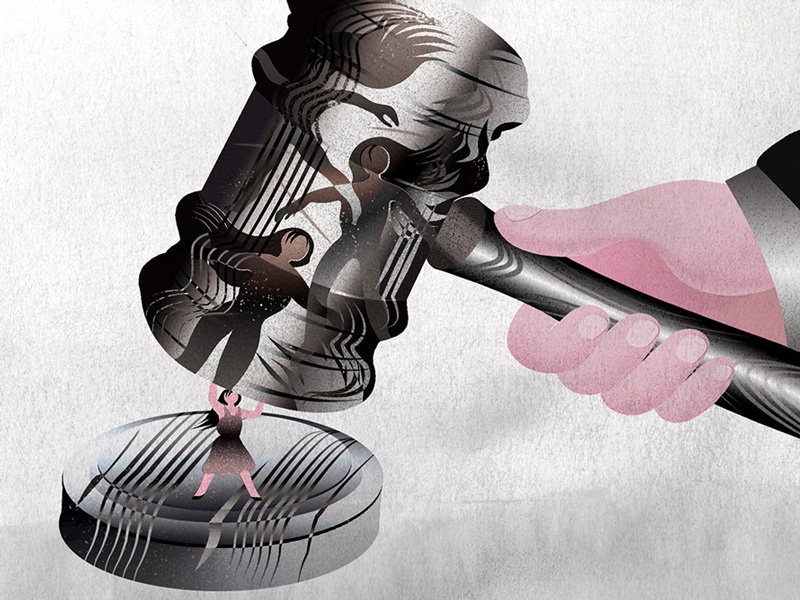 In this case, Shabana's father, the informant, is the prosecutrix's paternal uncle, and the accused Naushad is his son. The informant claimed that Naushad frequently visited his home and persuaded her daughter to engage in sexual activity with him by promising to marry her. When Shabana revealed to her mother that Naushad had cheated on her and she had become pregnant, the informant learned of this. The question that arose, in this case, was whether or not Naushad could be found guilty of the crime of rape. "According to Sections 375 and 376 of the Indian Penal Code, the court held Naushad guilty of the crime of rape and sentenced him to life in prison and a fine of ₹10,000."
In this instance, a pharmacy student who was aware that the appellant's marriage was planned with Priyanka Soni permitted him to have sex with her only after he committed to marrying her. The Court ruled that it was clear from the evidence that the accused did not intend to wed the prosecutrix from the start and that he deceived her by making a false promise in exchange for her consent to engage in sex. Her permission will therefore be regarded as lacking consent because it was based on an incorrect understanding of the facts as described in Section 90. As a result, "the accused was found guilty of the rape offence under Section 375 of the IPC, and he was sentenced under Section 376 of the IPC."
In this instance, the accused frequently visited the prosecutrix's sister to solicit sexual favours from her. He refused to have her join him in sex activities, but he kept trying to convince her. She struggled for around three months. He visited her sister's home one day again, shut the door, and forced them to have sex against their will and without their consent. He said that he would marry her when she questioned why he ruined her life. Hence. Based on this assurance, they continued having sex, and he continued to assure her that he would marry her.
She told the defendant of her pregnancy after becoming pregnant one day. He offered her some pills to try and get rid of the baby, but they weren't effective. When she asked him to marry her once more in the third month of her pregnancy, he responded that her parents did not support the proposal. She testified that if she hadn't made a promise to her, she wouldn't have granted her permission to engage in sexual intercourse.
The Court determined that the consent was provided under the mistaken belief that the accused would marry her after taking into account all of the aforementioned factors. As a result, this permission will be interpreted as having been withheld, and the accused will be found guilty under Section 375 of the IPC and punished per Section 376 of the IPC.
"The FIR that had been lodged by the complainant, an Assistant Commissioner of Sales Tax, against the accused, a Deputy Commandant in the CRPF, was dismissed by Justice Chandrachud." The complainant in this instance has known the defendant since 1998. She claimed that the accused had sexual contact with her in 2008 with the promise of marriage in this case. He began voicing doubts about their union in 2014 based on her caste, but they both continued to be together. They continued to see each other and spend days together at each other's homes on numerous occasions. When he revealed his engagement to another woman to her in 2016, she immediately filed a police report against him.
The Court ruled that a man cannot be held accountable for committing the crime of rape in any situation when he fails to marry a woman despite having promised to do so. He can only be found guilty if it can be demonstrated that the promise to marry was made with no intention of keeping it, and it was also the only justification offered by the lady for consenting to a sexual connection.
After this ruling, the question of whether permission gained through a "fraudulent promise to marriage can be a strong defence for the crime of rape or not emerges."
In response to this question, the Court stated that there is a distinct "difference between rape and consensual sex" and that it is crucial to carefully consider in each case whether the accused desired to wed the complainant or had ulterior reasons when he made a false vow to state his passion. The girl's permission won't be regarded as having been obtained by a misperception of the facts "under Section 90 of the Indian Penal Code" if he had ulterior motives when making the promise and tricked her into giving it to him, and she agreed to it as well.
According to the court, consent cannot be deemed to have been provided based on a misperception of the facts when it is given to a person with whom a girl is genuinely in love to engage in sexual activity. This is due to the belief that a girl who is fully aware of the nature and consequences of a sexual act will consent to it based on a promise to marry and maintain the relationship for a long time. In such situations, it can be very challenging to determine whether the consent was given solely because of the boy's promise and not out of a shared desire to be together.
So, it's crucial to understand the "difference between a misleading promise and a broken promise." False promises are ones that the accused did not intend to keep from the start, whereas promises can be broken for a variety of reasons. For instance, if a boy fell in love with someone, he might start dating someone else, he might be forced to wed someone else by his family, etc. This doesn't always imply that the pledge was a lie from the start. Therefore, the only thing that counts as evidence is the accused's intent. However, the specifics of each case will determine what constitutes permission and whether it was given voluntarily or involuntarily. If the court determines that the prosecutrix was likewise equally keen, then the offence would be excused in that situation. However, the court must analyse the facts and the circumstances in every case before coming to a determination.
Conclusion
Legal tradition holds that consent from women who engage in sexual activity while pretending to be engaged in a marriage is invalid. There is no set formula for determining whether the victim gave consent to sexual conduct out of a false sense of reality, as stated in "Udday v. State of Karnataka." The Court must consequently consider all available information and pertinent circumstances before making a decision.
Consenting sex has given birth to phoney and dishonest rape allegations in the modern day as live-in relationships have increased in popularity and premarital sex has grown to be tolerated. According to the data, although fewer rape cases have been perpetrated under the guise of a sham marriage, there have been more of them overall.
The judiciary must make many choices based on each case's unique facts and circumstances since the substantive rape statutes currently in force are insufficient to address instances of rape by deception. The system must be updated to incorporate all deception techniques where authorization is obtained dishonestly. On the other hand, it should be emphasised that if the law does not hold the guilty accountable for tricking the victim into engaging in sexual activity under the premise of a phoney marriage, many innocent girls would endure persecution.
---
References
You May Also Like