Corporate Governance in today's Market-driven World
April 10, 2021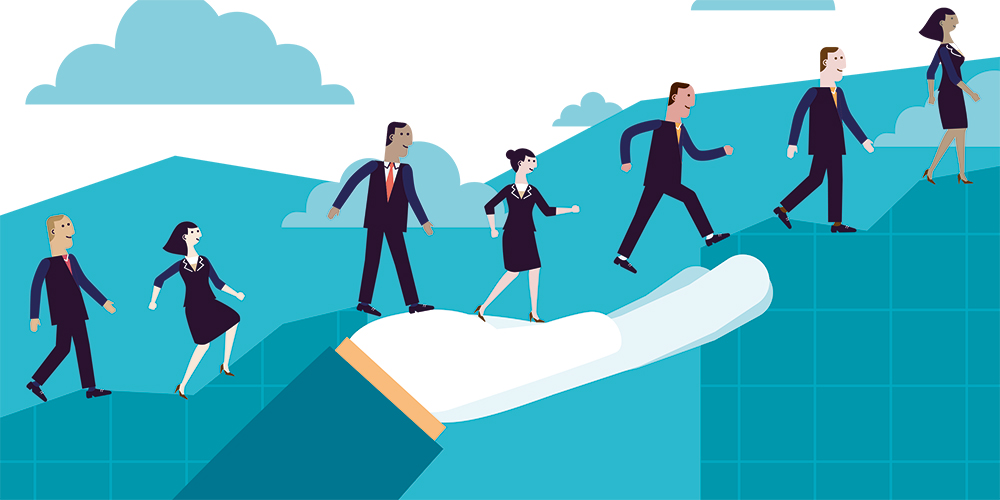 In recent times, countries have started to pay more heed to their economic front. The world economy has been developing at a great pace. In this competitive market world, corporate governance has gained quite an importance. It has emerged as a new branch in the economical sector. Corporate governance is basically a well-defined structure that ensures that the companies or the financial institutions adhere to the accepted standards and mode of functioning. It is the amalgamation of rules and laws that operate, regulate, and control the business sector. Corporate governance is the process through which the functioning process of companies is managed.
Good corporate governance enables companies to operate in an efficient way, leading to improvement in access to capital and also reduces the risk which in turn safeguards the interest of its stakeholders. It is a framework of business relationships between company shareholders, management teams, board of directors, and stakeholders. It directs and manages organizations. It works through a system of principles, policies, procedures, responsibilities, and accountabilities. Corporate governance aims to determine the ways to reach the most effective strategic decisions and control the interaction between various participants in the field of business, firms, and financial institutions.
Corporate Governance in India
In India, corporate governance is a set of policy and procedures that forms the framework of a company's operations and its dealings with various stakeholders such as customers, management, employees, and government. It is the technique by which companies are directed and managed and must be adhered to in any business practice. It is actually carried out for the good of the company's stakeholders by the board of directors and the related committees. It is all about balancing personal and social priorities, as well as economic and social objectives, and working for the public interest.
In the business context, it refers to the systems of rules, practices, and processes by which companies are governed. The purpose of corporate governance is to help build an environment that is transparent, trustworthy, and accountable necessary for fostering financial stability and business integrity, thereby supporting stronger growth. Infosys, TCS, Tata Motors were some of the 12 Indian companies that have featured in the Forbes list of the world's 2,000 best-regarded firms, securing 31st, 35th, and 70th ranks respectively. 
Corporate governance works on Listing Obligations and Disclosure Requirements Rules (LODR). The idea and functioning of corporate governance are dealt with by the members of companies. In case of violation of such norms, the SEBI, through LODR deals with it. It assists in the promotion of corporate governance. These rules are important as it improves the efficiency of accounting and auditing, protects third party transactions and interests, improving transparency, makes standards about the position and numbers of members working in the company and grant independence to the independent director so that they can effectively cooperate in the company's working.
India has also witnessed major scams due to failure in the functioning of corporate governance. Some incidences were the Reebok India Case, Kingfisher Airlines Case, Tata Sons ex-chairman Cyrus Mistry case, etc. so there is a need for some changes in the functioning as well as the structure of the corporate governance system in India.
Corporate Governance and Global Economies
In today's market-oriented economy and with the effects of globalization, the importance of corporate governance is increasing. This is because of the fact that corporate governance plays a vital role in maintaining fairness and ensuring that all shareholders' interests are covered. Corporate governance in the context of the global world economies refers to the regulation of interdependent links among the business set up. Today's economy is mainly market-oriented and hence the need for corporate governance is seen to have arisen. 
In a world of liberalization and globalization, there is growing realization in the emerging economies including India that a country's business environment must be maintained and operated in a manner that is conducive to investors confidence so that both domestic and foreign investors can make an investment in corporate companies that will result in rapid capital formation and sustained growth of the economy. There is craving for a global governance to deal with multinational and global issues pertaining to corporate governance. It set out the standards of how the corporations and institutions should work at the global level. 
Globalization basically covers all dimensions of the world economy and especially the market structure. Hence, companies are at risk and have adapted toward the customer and market expectations. These companies have to open to international capital flows. There should be international standards, conventions, and regulations set for the markets and the economic organization. Globalization affects the economy, business life, society, and environment in different ways but especially in market integration.
Today, different international companies have shown their interest in working with the Indian government in establishing branches. Well-known brands and companies like Walmart, Tesla, etc have started to function in India. It is important to notice here how the governments will deal with it and how corporate governance comes into play. Globalization exploits new business opportunities. We can see that the capitalist countries that are generally the core countries exploit the underdeveloped or the poor countries of their resources and wealth and establish Multi-National Companies (MNCs). Therefore, it is important that the domain of corporate governance comes into play and protect the interest of the involved parties and the public by creating transparency and fairness.
Importance and Significance
Corporate Governance is required to protect the interest of the investors and other stakeholders. It has quite significance and importance. It mitigates the risk of fraud, enhances shareholder value, improves organizational efficiency, and also ensures a strong and balanced economic development that would also contribute to sustainable business. Corporate success and economic growth are ensured by good corporate governance. It also retains the trust of customers, which allows the company to raise capital efficiently and effectively. It provides the owners and managers with a proper opportunity to accomplish goals. It also minimizes the risks of corruption and mismanagement and helps in brand formation and development.
A corporate governance system ensures that the management of a company considers the best interests and helps companies deliver long-term corporate success and economic growth, maintains the confidence of investors, and as consequence companies raise capital efficiently and effectively. It encompasses contracts between an organization and the stakeholders for the distribution of responsibilities, rights, and rewards. It also aims at reconciling the occasional conflicting interests of stakeholders, in accordance with their duties, privileges, and roles and set up procedures for proper supervision, control, and information flows to serve as a check and balances system.
After numerous scandals and economic downturns, companies are now realizing that better governance is most required. Most companies in aim to gain monetary profit have resorted to many illegal means that are in violation of ethical norms of business conduct. Due to lack of trust in governance, investor sentiments go awry resulting in a mass outflow of funds, sale by majority shareholders, reduced market value, and so on. Profound corporate governance is a must for banks. The approach must be a perfect balance between excessive stringency and too much flexibility. The system alone must be comprehensive and take into account the needs of all the stakeholders.
Conclusion
Corporate governance is a system that aims to implant policies and rules which help in maintaining the cohesiveness of an organization. It makes the institution more accountable to work in a systematic and transparent manner. Its importance is seen when a governance framework is in place. It also aids in the growth of businesses in a prosperous way. Such practices must be effectively adopted and also implemented through self-regulation and voluntary adoption of an ethical code of conduct and through regulatory laws and regulations framed by the Securities and Exchange Board of India (SEBI).
In a corporate governance system, the business's structure obeys a voluntary ethical code of business conduct that is conducive to the expansion of investment in them and guarantees return rates. It is also seen that to mitigate failure and scandals in business good corporate governance is needed. Business life requires more regulation and proper and socially responsible behavior. 
You May Also Like
September 21, 2023
October 16, 2022