Sabarimala Verdict – Justice Served or an attack on our beliefs?
July 2, 2020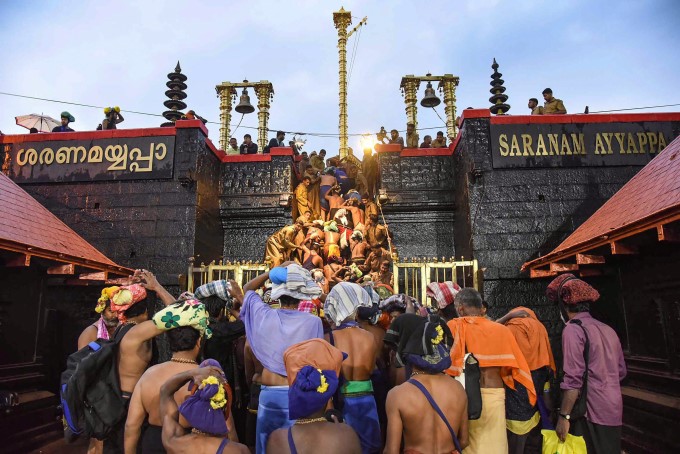 The Supreme Court declared the Sabarimala Temple's custom of prohibiting women in their 'menstruating years' from entering unconstitutional. Currently, review petitions challenging the judgment are pending. On 28th September 2018, a 4:1 majority held that the custom is unconstitutional. So has this verdict served justice to the sect of women who were not allowed into the temple or has it played with our religious sentiments?
Why are women not allowed?
Sabarimala Temple is a temple of Shasta located at Sabarimala in Pathanamthitta Area, Kerala, India. In the past, female devotees of bleeding age were not allowed to worship in the temple. This boycott was said to be out of respect to the celibate nature of the god (underage teenage Male) in this temple. Sabarimala is one of the few temples in India that welcomes men and women of every caste. A Dalit can lead the prayers and a Brahmin in the group must still touch his feet which is hardly seen anywhere.
So, why limit women? For the reply, we ought to go back to the legend. Agreeing to the Puranas, Ayappa was born to annihilate a female evil spirit who, much obliged to a boon, could only be vanquished by a child born of both Shiva and Vishnu. When Ayappa satisfied his fate by slaughtering her, a wonderful lady developed from the body. She had been reviled to live as a demon, but her killing turned around the curse. Now free, she asked Ayappa to marry her. He denied, clarifying to her that his mission was to go to Sabarimala where he would answer the prayers of his devotees. Be that as it may, he guaranteed her that he will marry her when Kanni-swamis stopped coming to Sabarimala. She presently sat and held up for him at a neighbouring shrine close the main sanctuary and is worshipped as Malikapurathamma. This is why ladies don't go to Sabarimala. It is partly out of empathy for Malikapurathamma and her interminable wait and it's also out of regard for Ayappa's commitment to reply to the prayers of his devotees.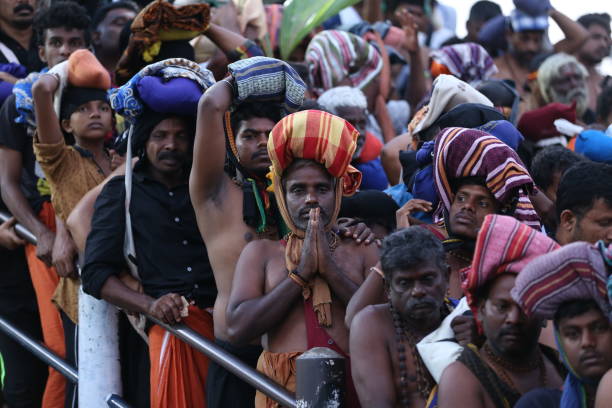 For hundreds of years, devotees had bought into this story. It has nothing to do with menstruation or being unclean. Anybody who goes to Sabarimala knows that. The incongruity is that the individuals who have taken this issue to the Supreme Court likely don't accept the back story. This is ultimately all about faith. A few accept that such devout confinement isn't odd as they are as per conventions to regard the god of the sanctuary; comparable to this there are limitations against men as well in a few prominent temples, for example Bramha sanctuary, Pushkar. Each temple has its own story and Maryada. There is even a temple that specifically celebrates menstruation, the Kamakhya temple in Assam. Men are barred from the temple for certain days. Every temple need not be identical; the divine can be celebrated in numerous distinctive forms, each having its own idiosyncrasy. It does not need to be homogenized into equivalence. This is the magnificence and diversity of Hindu traditions. The restriction was just out of faith and out of religious sentiments. This verdict has harmed the religious sentiments of the masses.
The legend of Sabarimala has Ayyappa, the presiding god, in celibate form, which is why ladies of a certain age don't visit the sanctuary, to regard the tradition. So when women devotees really need the tradition to be regarded, whose 'right to pray' is being violated? If one doesn't have confidence within the legend of Ayyappa at Sabarimala, why would one go to pray at the sanctuary at all? The point clearly isn't around the 'right to pray', but about desecrating a sacred place. This is often precisely what the verdict has done. Hindu ladies had more than once expressed their support for continuing the traditions at Sabarimala. It is just the ignorance that has made this practice a big issue. The matter was not looked into properly.
Again, people made this a fight of gender equality and not seeing the fact that women are allowed in the temple, it is just a certain section of them which is not allowed. Jogakhichudi, a devotee, writes in OpIndia in response to the Supreme Court verdict: I'm a Hindu woman and a believer who is #ReadyToWait and with this verdict, I feel utterly cheated and defeated. Cheated and defeated by these false petitioners who didn't represent me (and thousands like me) and yet cheated me out of my right to choose to wait. But mostly, I am angry. Very angry.
So, it is clearly seen in this sentence that the PIL that was representing the women who were being restricted from going inside the temple was not asked about it. Their opinion was not taken. The Supreme Court while giving the verdict did not think about the people who are ardent devotes of Ayyappa and shattered their beliefs in a moment. While the motive behind this judgement was to give relief to the women, it turned out that they were distressed rather than being happy about it as their traditional beliefs were attacked without them asking for it. The only woman justice on the bench dissented with the four male judges. And the pretext for all of this was 'women's rights'.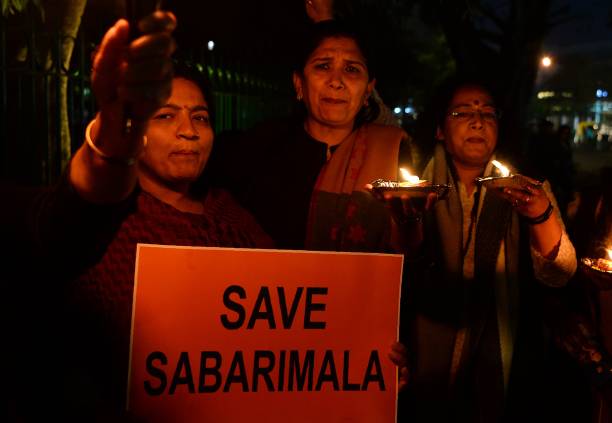 For the Supreme Court, the Sabarimala case was a test of constitutional morality and the majority judgment concluded that the prohibition of women between the ages of 12 and 50 abused the equality principles of Articles 14, 15 and 17. At the same time, the Court, by not tending to the issue of whether this exclusion was an essential religious practice, in effect concluded that it was an insignificant embellishment.
To counter the arguments provided by the Supreme Court, article 25(freedom of religion) of the Constitution of India should be taken into view. This article particularly gives equal privilege to each person to freely profess their religion. Equal treatment under article 25 is conditioned by the basic beliefs and practices of any religion. Equality in matters of religion must be seen in the context of the worshipers of the same faith. A religion can lay down ethics and the ways of its following. The deity's seclusion from fertile women was an integral part of the Ayyappa tradition and unreservedly accepted by devotees — including women— was disregarded. Instead, primacy was attached to objections by non-devotees. PILs that attack the long followed religious traditions hinder the secular fabric of our country.
Thousands of people are out protesting, with Hindu women leading the charge against what is perceived as an insensitive interference in their faith and traditions. So, to the people who are not well versed with the beliefs that the devotees of Lord Ayyappa hold it looks like there is discrimination done with women. To reduce the age-old Sabarimala tradition to one that's patriarchal or discriminates against ladies is off-base, disastrous and dangerous. It'll be seen as and is being seen as an attack on Hindu Dharma by lakhs of devotees. That's why the recent Supreme Court decision is missing on so numerous counts. The judgment itself was clearly rushed and appeared more like driven by prevalent Delhi sentiment than a vigorous reflection of the issue. It appears to have been built around an objective of making a false equivalence between its Triple Talaq judgment for Muslims and this for Hindus. They wanted to show that all the religions are equal in the eyes of law and wanted to show to the people of other religion that they are not against them(as India has Hindu majority) and every individual is equal in the eyes of law. The law raises its voice against everyone but the two were very separate matters as in one the women were really wanting justice and here the women were with belief following their traditions.
The PIL was filed by a group that clearly did not involve the affected parties – they were not Ayyappa devotees, but a group of lawyers. Justice Indu Malhotra's dissenting judgment was right in cautioning against this kind of brute force wading into Hindu tradition. By allowing non-interested parties to file PILs on faith and religion, the former Chief Justice has dangerously erred. So according to me, this verdict does not serve any justice as it was not asked by the devotees that were involved in the sect that was restricted to enter the temple but on the other hand, it has attacked their beliefs. The Hindu women who are the devotees of Lord Ayyappa were readily following the traditions and had no problem with them. This verdict has given rise to anger among the people of Kerala, both the genders. The people are resenting it as they think that their beliefs have been misinterpreted. If the women are not allowed in this temple then what about the many other temples where males are not allowed?
I personally feel that religion is something that is built on faith and beliefs. There should be no legal intervention into religion until and unless something serious which is really affecting people does not come up. This was purely an act of social engineering. But not everything has to be changed. Religions are what make India secular. Traditions are the backbone of religion and if they are being hindered from time to time, there will be a lot of chaos in the country.
You May Also Like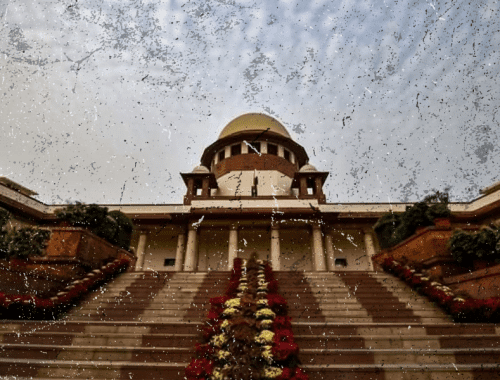 March 3, 2022